WELCOME
To:
My Nest
2003 Journal

Glimpses of what is happening in my life
as I see it..


I am currently feeling
<!...MOOD CODE START HERE.....!>

<!...MOOD CODE STOPS HERE.....!>
<!COUNTDOWN CODE BEGINS HERE!>
June 21, 2003
Wedding bells will be ringing
<!COUNTDOWN CODE ENDS HERE!>




X---XX---X---XX---X



January 1 - February 13 journal entries have been added to My 2003 Journal archives

My latest Journal entry


X---XX---X---XX---X


Friday February 14:
Darlynn made a request for bloggers to join in on a Valentine post today ~ Valentines Day ~ of how they met their sweeties.
I am joining in but first I wanted to begin my post with a parade of some of the gifts that I have received from my friends. Please allow time for them to load.. I appreciate each of your friendships and those that I didn't get loaded I am sorry and thank you also.. A special thanks to each of my playroom pals that made me many Valentine cards.. I am sorry I didn't get them loaded to share here.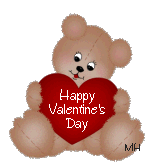 Now to tell you how we met..

The summer of 1969. I was a Freshman in high school.. Hubby was a senior.. We lived within 6 miles of each other but had never had met before.
I was staying the night with a girl friend of mine that lived in the country near me when a Oklahoma tornado decided to visit.. Her parents took us to her grandparents home in town to ride the storm out in their basement....There we were in a dark musty room when something caught my eye and made me forget about the storm brewing outside. A really cute guy sitting over in the corner. I asked my friend who he was, she thought he lived next door but didn't know his name. My brain was clicking on how to get his attention. I wish I could say that I had a great line but nope I set there like a lump on a log gigling with my friend while the storm passed. Then the time came to leave the storm is over.. Oh my heart was pounding this guy was following me up the steep steps I was thinking I have to say something.. Before I could think of anything I stumbled and he assisted me up the steps a smile on his face that I will never forget.. Oh he is sweet and thank goodness he likes clumsy girls...Well that was our first time to met but of course I didn't see him again until later in the summer.. Hey he was a senior and I was a freshman he was a town boy I was a country girl.. But it was meant to be because 30 years ago we became Husband and Wife. Hubby says that he remembers that night well and all but really thought more about being stuck in a basement with a bunch of giggling girls and how he was really pissed that his parents made him go in the first place. He remembers our second meting better but that is another story.. :O)

I married my Valentine
October 6, 1972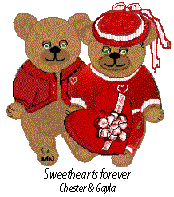 For it was not into my ear that you whispered,
but into my heart.
It was not my lips you kissed but my soul.
Judy Garland



On another note.. Wasn't surviors great last night.. Those ladies need to get a shelter built and quick.. <

Font face="tempus sans itc" size=4>

X---XX---X---XX---X


Saturday February 15:
Yesterday was a beautiful day not only because it was Valentine Days but the Oklahoma weather was great.. Little windy but we hit the high 60's. Hubby got me not one but two boxes of turtles. He is so silly and I love him so much. Wonder if even realizes that I am suppose to be on a diet. Oh well I am impressed that he stoped and got me soemthing he has not ever been big on heart day..
I received another special gift from my Secret Sister.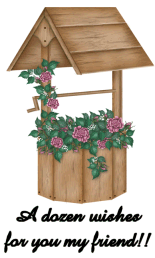 Twelve wishes wow..

X---XX---X---XX---X

X---XX---X---XX---X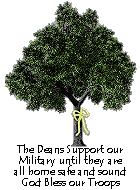 MILITARY BLOGING FAMILIES
Please visit and offer your support.

TO THE TOP of page
X---XX---X---XX---X